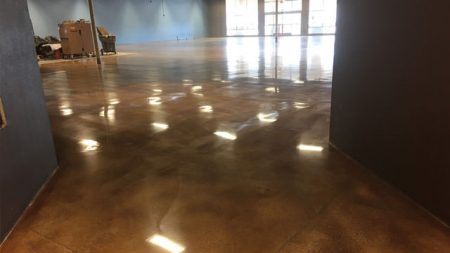 When you want your concrete to be glossy, look no further than the concrete polishing systems from California Custom Coatings in Davis. We polish concrete using the latest concrete technology to stain, polish and then we protect your new colored concrete floor.
The Concrete Polishing Process
Here are the usual steps employed when polishing concrete:
Grinding – A strong grind of the present concrete prevents blemishes and the floor sealers attach permanently. We use premium industrial vacuum machinery to eliminate the dust produced during the grind.
Leveling – Areas with deterioration or faults are refloated to the same level as the rest of the concrete. This way the polish is 100 percent solid and even.
Staining – Your concrete floor is infused, not just coated, with a color stain of your selection. Any needed patterns are also added at this step. Stains can be heavy, covering the concrete grain, or light, allowing patterns in the concrete to shine through like polished wood.
Transparent protective coat – Floor sealers applied above the polished floor fill the pores and highlight the impressive gloss. These transparent sealers bond to the smooth concrete with considerable strength, creating a floor that is very low maintenance. For environments where heavy traffic is common, we use a thicker coat of protective sealers to compensate.
Once concrete polishing is complete, your glossy, colorful floors are thoroughly protected from stains, scratching and wear. Cleaning is simpler, requiring far less care than carpet, linoleum or wood. California Custom Coatings offers concrete polishing for floors in residences and industrial or commercial workshops of all types and sizes.
If you want to talk about the choices for adding a stronger, reflective coating to your concrete floor, please contact California Custom Coatings in Davis, or use our online form to request a free inspection and concrete assessment.