Concrete Color Indoors and Out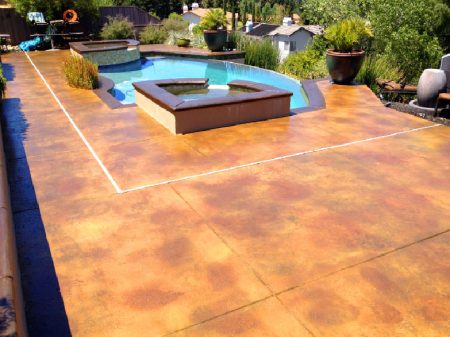 Whether you want to completely change the appearance of your concrete or restore the surface back to new, California Custom Coatings has the system for our Sacramento and Northern California customers. We use a variety of stains and staining techniques, such as faux coloring, layered colors and antique effects. We combine moisture proofing with two-component polyurethane topcoats that are very durable and have extremely good chemical resistance. The final result is a beautiful concrete surface.
Because we use a superior topcoat product, our staining system is suitable for indoor or outdoor use. It is designed to last many years, even when exposed to heavy sunlight and inclement weather. Our products are used in extreme environments with outstanding long-term results. They are also available in a gloss or matte finish.
Additionally, many applicators use acid-based stains or hazardous solvents that create a potential for environmental, health and structural problems. In contrast, California Custom Coatings only applies user-friendly and safe water-based, extra-strength color stains that make the concrete appear naturally colored. Manufactured under the brand name Color Floor, this product is guaranteed to also work with brick, plaster and natural stone. Color Floor's advantages include:
Fast drying
Low odor
UV light resistance
Water submersible
Alkali resistant
Estimates from California Custom Coatings are always free and phone calls are always welcome. We service Sacramento, Northern California and large-scale facilities in Southern California. For superior products and workmanship, contact California Custom Coatings for all your concrete staining needs!