Concrete Color Staining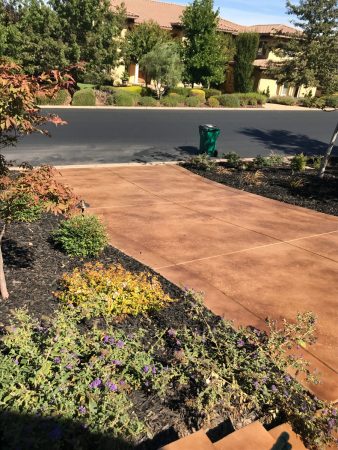 Whether you would like to improve the look of new concrete or renew the surface of old concrete, California Custom Coatings has the system for our Elk Grove customers. We lay down a choice collection of stains and methods. We match durability with moisture proofing and UV resistance with chemical protection. The finished result is stunning concrete.
California Custom Coatings uses high quality topcoat products, so our concrete staining method is suitable outdoors and in. It is installed to have a useful and long life, even if exposed to direct sunlight and stormy weather. Our topcoats were used in extreme environments with exceptional outcomes. They are sold in a glossy or matte finish.
Our Unique System
Although some epoxy businesses use risky acid-based stains or solvents that are potentially harmful, California Custom Coatings only applies safe, water-based color stains that look vibrant, but natural. This product is guaranteed to also work with stone, plaster or brick.
Estimates from California Custom Coatings are always free and phone calls are warmly welcomed. We service Elk Grove and beyond. For high quality products and materials, with outstanding work, contact California Custom Coatings for all your concrete staining requirements!