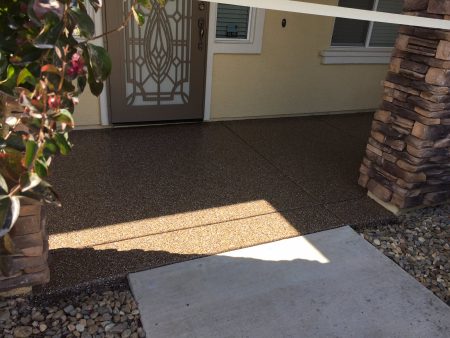 While it is true that homeowners typically don't subject their floors to the wear and tear common in industrial buildings, residences still benefit from the look and strength of epoxy coatings for concrete floors. Easily, the most popular application of epoxy flooring for homeowners is in the garage, where epoxy stops unseemly oil stains. It also beautifies the usually plain look of the biggest room in the residence.
But homeowner epoxy flooring is for more than just the garage. It is also beneficial for coating floors in the following parts of any home:
Patios and porches
Pool decks
Walkways
Backyard sport courts
Man caves
Basements
Workspaces
Mop rooms
Basically, anywhere you have a concrete floor that needs an enduring, decorative covering, California Custom Coatings can help. We don't limit our business to large jobs. Whether you have a multi-car garage or a small area with a large plan for improvement, we are happy to visit properties to provide fully customized, competitive quotes.
To see the high quality of our work, visit our gallery of images and check out the many favorable testimonials from our past customers. California Custom Coatings – offering residential epoxy coatings for residences throughout Napa and Northern California!
Request a Free Quote