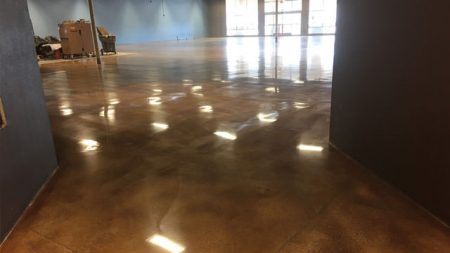 Concrete renovation can include more than a simple change in texture or color. Perhaps you would prefer your concrete floor to be sparkling, reflecting light like a mirror. California Custom Coatings can achieve just that!  We will color and protect your concrete floor and give it a glass-like shine with concrete polishing.
The Concrete Polishing Process
Our treatment begins with an aggressive treatment of the concrete's top layer to eliminate any imperfections, blemishes, and spots. While grinding the floor, we use top quality industrial machines that vacuum all the dust made to keep it off the floor and out of the environment. After grinding, parts with cracks or faults are refloated to guarantee a solid and level surface. This prepares the floor for a thorough and enduring infusion with your chosen color. The grinding process also guarantees the strong adhesion of floor sealers that create a virtually mirror finish. A wide variety of colors are available, and a thick application of the clear protective layer is available if heavy traffic is common.
Concrete polishing thus provides the finest in decorative durability, for both businesses and home, while additionally presenting scratch and chemical resistance. This technique is easily the best for enterprises wanting a good-looking, durable, and low-maintenance floor surface in their business or industrial building, or for homeowners wanting an amazing floor that's simple to maintain.
If you would like to discuss the selections for adding a durable, shiny surface to your concrete floor, please contact California Custom Coatings in Stockton, or use our online form to request a free site examination and quote.