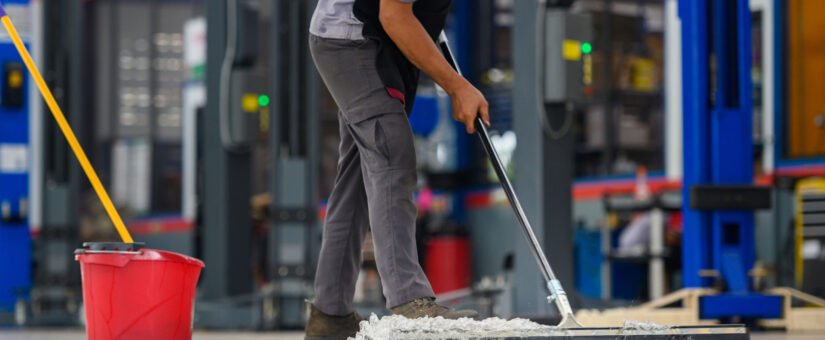 For floors installed by California Custom Coatings, the cleaning and maintenance procedure is very simple. No special cleaners are required. Waxing is not wanted. Scrubbing is never a good idea. You install epoxy flooring to limit the amount of cleaning you need to do! So here are the easy cleaning steps recommended by manufacturers for epoxy floor care.
Dust Mop Your Epoxy Floor
In high-traffic areas, it's a good idea to dust mop daily. For low-traffic areas, once a week with a dust mop works just fine. Besides catching dust bunnies, this removes any grit and abrasives brought in from the outside. (Sweeping works too, but most clients find a dust mop to be more effective.)
Mopping an Epoxy Floor
Wet mopping an epoxy floor should not be necessary more than weekly in low traffic. If the environment has high traffic or a high rate of spills, mop as required. Here are some tips to keep in mind when it comes to wet mopping:
Before using a new floor cleaner on an epoxy floor, test it on the surface in an out-of-sight area. The diluted cleanser should not leave a film or make the floor feel gummy.
Always use diluted floor cleaners with a neutral pH — non-alkaline and non-acidic. Do not use cleaners that contain salts.
Allow the cleaning solution to remain on the floor for up to five minutes before starting to mop it up. This allows time to absorb grime into the solution.
Do not allow the cleaning solution to dry on the surface.
Always do a rinse mopping to remove any cleaning residue.
Hard tap water can leave marks on a glossy surface, just like it does with windows. Therefore, you should dry your epoxy floor after mopping with a microfiber mop, a large towel, or a soft drying pad.
For more advice on keeping epoxy floors looking good, ask your professional installer at California Custom Coatings.