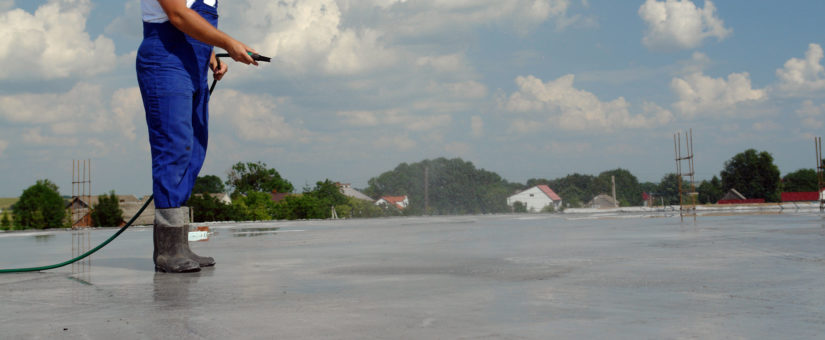 It is a little known fact that the process of curing concrete actually generates heat. This is because when you mix water with cement, the molecules in the cement begin a chemical reaction together. Sometimes they react with each other, and sometimes they react with the water, in a process called hydration. Heat is generated during some of these reactions, so they are called exothermic.
How Much Heat is Generated?
As a general rule, the Portland Cement Association estimates that for every 100 pounds of cement, the concrete gains anywhere from 10 to 15 degrees Fahrenheit in temperature. As a result, controlling the temperature of the concrete is very important to insure that it cures over a long enough period of time. The factors that affect curing are both this internally generated heat and the external temperature.
Ideally, concrete should be poured and cured at an internal temperature of 50 to 90 degrees Fahrenheit. On a cold day, this may mean that your concrete contractor needs to heat or insulate the concrete. On a hot day, it means the concrete needs to be kept cool, usually by keeping it wet, using evaporation to lower the concrete temperature.
What Difference Does the Temperature Make?
If concrete gets too hot, it may gain strength quickly, but the final strength will be less than ideal. If concrete stays cold, it won't set, and work on the concrete is stalled. Curing between the ideal temperatures of 50 to 90 degrees results in the best combination of final strength versus time to cure.
Besides using external methods like evaporative cooling when it is hot or insulation and additional heating when it is cold, the heat generated by hydration can also be affected by the mix of the concrete. Specific combinations of aggregate, sand and even the components in the cement can alter how much heat is generated while the concrete cures and sets. In this way, the cement mixer also plays a role in guaranteeing a solid final product, based on the size of the job and the state of the weather.
Protect Your Concrete Investment
After all this work, knowledge and expertise have been invested in a well-made concrete slab, it would be a shame not to take good care of it! Epoxy coatings protect the concrete, lending it additional strength against abrasion damage and permeability. Plus, a colorful coating or colored concrete stain adds beauty to a product that is otherwise rather bland. To protect your investment in concrete, clients in Sacramento and Northern California can talk to California Custom Concrete, available for free consultations on the phone or online.