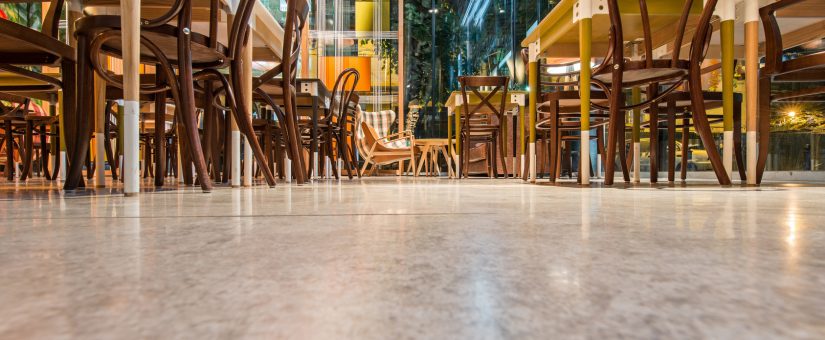 When deciding how glossy to make a custom concrete floor, we talk to our clients about gloss and how we measure it. By specifying a specific amount of gloss for a project, it's easier for California Custom Coatings to get the floors just the way our customers want them! Satisfaction for our clients in Sacramento and the rest of California is essential, so here is an explanation on how you measure gloss with concrete floors.
The Standards for Gloss
Due to the standards in house paint, many people are familiar with the concept of gloss as a measurement. Paint comes in flat, satin, semi-gloss and high gloss finishes, all of these terms telling you just how much light the paint reflects. The concrete flooring profession uses similar terms, so a floor with no gloss is flat and with a slight amount of gloss features a satin or matte finish. Increase the amount of polish to the next level and you have semi-polished and at the top level we call it highly polished.
The level of gloss can actually be given a specific number with a gloss meter. Gloss meters shine a certain amount of light on a surface at a specific angle and then measure how much light is reflected back from that surface at the opposite angle. The standard for gloss is a sheet of black glass, which measures at 100 GU (Gloss Units). By this standard, here are the values for different types of concrete surfaces:
Less than 10 GU = Flat
Up to 30 GU = Low Gloss
30-50 GU = Satin or Matte finish
50-60 = Semi-polished (or Semi-Gloss)
60-70 and above = Highly Polished (also High Gloss)
Naturally, samples are available for all of these different levels of gloss. With certain colors of concrete stain or epoxy, it can be easier to create a high gloss surface, so if very shiny is part of your perfect floor plan, talk to California Custom Coatings about the right type of color to match your needs. The amount of gloss can even go above 100 GU with the help of products like metallic finish and genuine mica flakes. Combining the natural luster of metal with a floor's polished clear coat can make an amazing difference in the amount of gloss.
To learn more about concrete polishing, epoxy floors and other means of protecting and decorating your concrete floors, visit and contact California Custom Coatings, serving Sacramento, Northern California and the entire state.