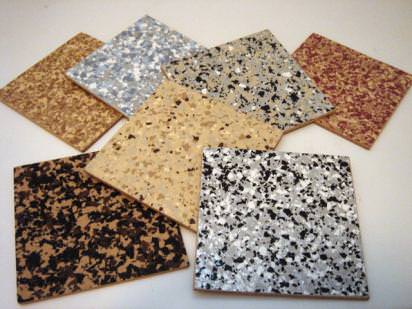 Color flakes are just like their name sounds — solid flakes of color that complement the main color of your epoxy floor. You can use one color flake, to create two-tone custom flooring, or you can request multiple color flakes and develop a personalized mix.
Why Add Color Flakes?
From clean rooms to garages, color flakes provide an aesthetically pleasing, textured feel to your concrete coating, complementing any décor. They are available in not only an endless array of color combinations, but also in a wide range of sizes from 1 inch to as small as 1/32nd.
Some advantages of adding color flakes to your customized concrete coating is:
color flakes hide substrate imperfections;
they offer many different blending options;
color flakes are UV resistant;
they add a slight texture to the flooring to reduce slipping.
Customers use a variety of considerations when selecting their color flakes, such as favorite colors, creating a seasonal feel (fall, winter, summer or spring), team colors, camouflage, trusting the color wheel —many possibilities are available with color flakes and colored epoxy flooring.
Use our website to narrow down your choices and request to see samples during your consultation appointment. It's important to us to determine the right color combination for your concrete floor. California Custom Coatings wants to live up to our name in Sacramento by providing you with the color flakes of your choice for concrete epoxy flooring!