Commercial Epoxy Coatings for Elk Grove
California Custom Coatings offers epoxy floors for many different types of warehouse buildings, commercial real estate, and industrial sites. Each and every commercial project has its own specifications, based on the manner of business and the client's desires. With considerable experience laying epoxy coatings for Elk Grove businesses, California Custom Coatings is equipped to match the right materials and techniques to your specific circumstances.
Where Should Epoxy Flooring Be Used?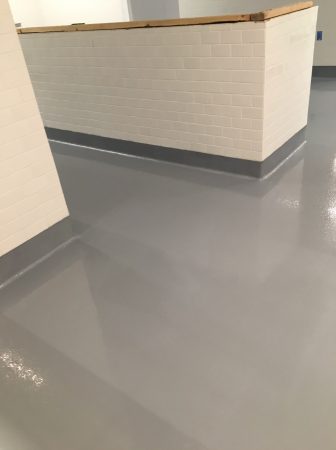 California Custom Coatings works with all types of floors, from new concrete to cracked, old or stained concrete. The end result is always a smooth, personalized business platform that suits your desires and funds. Think about some of the typical applications of commercial epoxy coatings:
Fitness spas use epoxy floors for swimming pool areas, lockers, and baths.
Rehabilitation facilities benefit from epoxy floors for easier maintenance and cleaning.
Restaurants use epoxy coated concrete to minimize hazards in kitchen and storage areas with non-slip texturing.
Repair shops use epoxy coatings to prevent oil buildup.
Electronic stores appreciate epoxy coated concrete since it repels dust and encourages a clean work environment.
Epoxy flooring offers many different interior design options for retail and is an excellent choice for warehouse areas.
All epoxy floors can be made with specific colors for one area of your work space versus another, or with striping to indicate paths to desired departments. For more information about how California Custom Coatings can protect your concrete floors while making them a vital part of your interior design, contact us today for a quote and consultation.