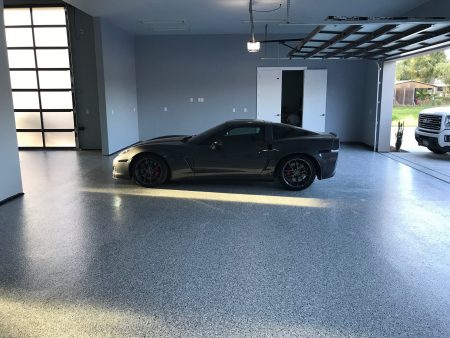 California Custom Coatings provides the highest quality epoxy surface flooring systems in Elk Grove. From many years of real experience, we selected the absolute best manufacturers and coatings on the market. While other installers may give you cheaper materials and products, California Custom Coatings knows that quality determines the toughness and look of the end product.
Epoxy Flooring Installation
California Custom Coatings uses a professional strength diamond grinder to prepare your concrete. This scours the concrete and prepares it to connect properly with the epoxy, making a more resilient bond. To prevent the spread of concrete dust, we use a professional strength vacuum with strong HEPA filtration to effectively eliminate any concrete particulates and keep your property clean.
Then California Custom Coatings layers on a wicking epoxy that flows into the holes and cracks in your concrete to effectively attach itself forever. When it dries, this epoxy is adhered to your concrete for life! No bubbling, no peeling, guaranteed!
After the epoxy step is complete, then comes the color coat. This is when your previous selections in color, texture and pattern are layered. Finally, a transparent topcoat covers everything to seal it and lend protection from fading and scratching.
For Industrial, Commercial and Residential Clients
By adjusting the depth of the epoxy, the chemical components and the texture, California Custom Coatings installs epoxy floors specified for industrial, commercial and residential use. A simple phone call or online request provides a no-cost consultation to determine your needs. We serve residences and businesses in Elk Grove, as well as throughout Northern California and beyond.