Epoxy Flooring for Elk Grove Homeowners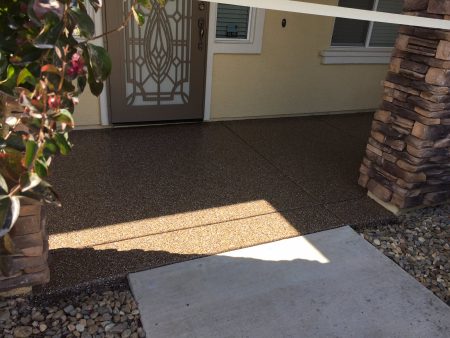 Even though homeowners usually don't subject their floors to the overuse common in business properties, homes still benefit from the appearance and endurance of epoxy coatings for concrete floors. Far and away, the most common use of epoxy flooring for homes is in the garage, where epoxy halts unseemly oil stains. It also beautifies the otherwise grey look of the biggest room in the residence.
California Custom Coatings does more than just garages and carports, as many homes also take advantage of epoxy coatings in the following areas:
Porches with ultraviolet resistant epoxy designs and colors,
Washrooms and mop rooms and pool decks with anti-slip epoxy coatings,
Workrooms and dens featuring team colors and logos.
Basically, anyplace our Elk Grove customers want epoxy flooring layered on their property, California Custom Coatings has the expertise and knowledge to finish the job efficiently and cleanly.
To see the quality of our work, visit our gallery of pictures and check out the many positive comments from our past customers. California Custom Coatings – providing residential epoxy coatings for all homes and any size of concrete surface!
Request a Free Quote