Commercial Epoxy Coatings for Stockton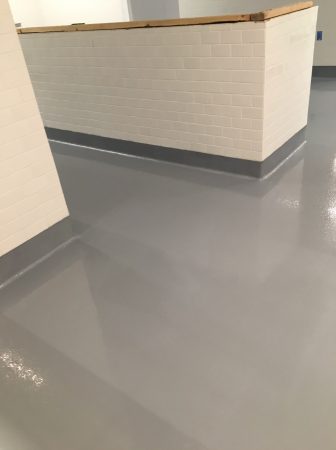 There are many benefits to installing epoxy coated concrete for commercial real estate. Because of many years of experience applying epoxy coatings, California Custom Coatings amplifies the benefits of employing this outstanding material for our customers. Satisfied customers in Stockton generally select epoxy flooring due to these beneficial features:
Coated concrete becomes water resistant, stain-resistant and also be made chemical-resistant.
Epoxy coatings are very enduring and ultraviolet light resistant, and therefore applicable for outdoors and indoors.
Slip-resistant coatings are provided where liquids or inclines are present.
Epoxy flooring is inexpensive, especially for sizable commercial foundations and definitely when you calculate ease of maintenance.
Patterns and colors are sold in a wide number, specified with any desired color scheme or design layout.
Coved flooring is sold if necessary for sanitation and wall protection.
Turnaround time for epoxy coatings is quick, minimizing downtime for your business during remodels and allowing for faster construction schedules with new real estate.
Where Should Epoxy Flooring Be Used?
Commercial and industrial grade epoxy flooring calls for thicker application of the polymers that cover your concrete. Depending on the expected levels of traffic, the grade of topcoat and thickness are selected. Epoxy projects for commercial or industrial flooring also requires careful consideration of how the floor is used and what services or products the customer provides. Epoxy coatings and protectants are thereafter laid with the right attributes.
All epoxy floors can be equipped with specific colors for locations of your choice, or with stripes to indicate paths to various areas. For additional information about how California Custom Coatings can protect your concrete floors while making them a vital part of your interior design, contact us today for a consultation and quote.