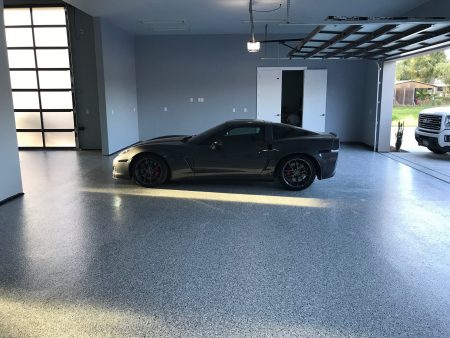 While many businesses provide different kinds of epoxy flooring systems for concrete floors –  not all suppliers are equal. With years spent testing almost all the materials sold, California Custom Coatings knows exactly which ones are best to apply in Stockton. We utilize only the finest quality materials, so you may rest assured that your concrete will endure continuous use while looking good!
Epoxy Flooring Installation
California Custom Coatings begins an installation with diamond grinding that both cleans and conditions the concrete for the laying of the epoxy. Out of concern for the sanitation and air quality of your room, strong, highly-rated vacuums with HEPA filtration remove concrete dust. Excellent equipment provides excellent results.
After the preparation is complete, a wicking epoxy is layered onto your concrete. This resilient material works its way into all the minor depressions and fissures in the concrete to cover it thoroughly. These imperfections strengthen the grip to your concrete. Now your epoxy coating will preserve and protect your concrete for its lifetime.
After the base coat step is finished, then comes the color coat. This is when your preselected selections in pattern, texture and color are layered. Lastly, a clear topcoat covers everything to seal it and provide protection from fading and scratching.
For Industrial, Commercial and Residential Clients
By altering the height of the epoxy, the chemical composition and the texture, California Custom Coatings installs epoxy floors useful for industrial, commercial and residential applications. A simple phone call or online request provides a complimentary consultation to figure out your needs. We serve residences and businesses in Stockton, as well as throughout Northern California and beyond.