Epoxy Flooring for Stockton Homeowners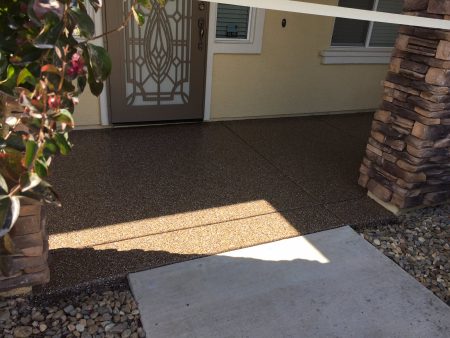 Although homeowners usually do not subject their floors to the excess use common in industrial installations, residences still benefit from the appearance and durability of epoxy coatings for concrete floors. Far and away, the most requested application of epoxy flooring for residences is in the garage or carport, where epoxy prevents unwanted oil stains. It additionally decorates the ordinarily bland look of the largest room in the residence.
California Custom Coatings does more than just garages and carports, as many residences also take advantage of epoxy flooring in the following areas:
Patios with UV light resistant epoxy colors and designs,
Washrooms, mop rooms and pool decks with anti-slip epoxy coatings,
Workrooms and man caves featuring team colors and logos.
Basically, anywhere our Stockton clients want epoxy flooring laid on their property, California Custom Coatings has the experience and knowledge to finish the job efficiently and neatly.
Peruse our reviews and you will realize that California Custom Coatings provides a quick, complimentary quote and epoxy flooring consultation. Our gallery of images demonstrates the wide variety of requests our skilled team fulfills throughout the greater Stockton area. Bring this performance to your residence by contacting California Custom Coatings today!
Request a Free Quote