Concrete Color Staining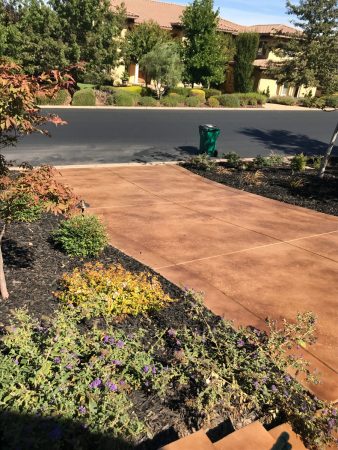 Drive through neighborhoods in Stockton and you often see the same thing: large, boring driveways. They all appear the same. But a home with a colored driveway that matches the surroundings is altogether different! It gets noticed because of the special concrete.
California Custom Coatings additionally advertises topcoats that preserve color with a matte or glossy finish. Our systems work indoors and outdoors, offering enduring alternatives for drab concrete slabs or walkways. These superior sealants also defend your concrete from wear, helping it to have a useful and long life.
Unique Designs for Your Home or Business
California Custom Coatings stains are acid-free, making them safe for you, our workers, animals, the concrete and the environment. Our methods also work on stone, brick or plaster, presenting you the option of matching these surfaces with the concrete. Many clients decide upon color staining on patios, pool decks and courts.
Ask California Custom Coatings to make your property in Stockton stand out! We create complimentary quotations and discuss your queries over the phone. Please contact us to realize the gorgeous end results from concrete staining and sealing!