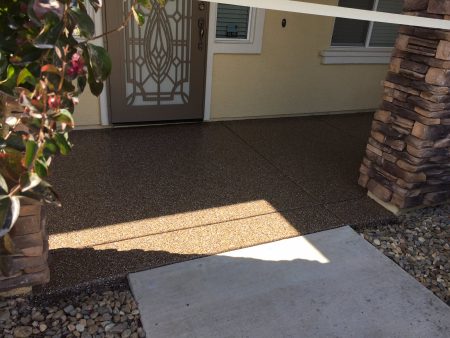 Easily, the favorite room in any residence for epoxy floors is the garage. For this job, California Custom Coatings has many, many satisfied customers in the Vacaville area. They have all seen our superior customer service, high quality materials and superb techniques.
California Custom Coatings does more than just garages and carports, as many homes also benefit from epoxy flooring in the following areas:
Porches and patios with UV light resistant epoxy colors and designs,
Washrooms and decks with anti-slip epoxy coatings,
Workrooms and man caves featuring team logos and colors.
Basically, anywhere our Vacaville customers want epoxy flooring applied on their property, California Custom Coatings has the experience and ability to complete the job efficiently and neatly.
To see the high quality of our work, visit our gallery of pictures and check out the many favorable comments from our prior customers. California Custom Coatings – presenting residential epoxy flooring for all homes and any size of concrete floor!
Request a Free Quote