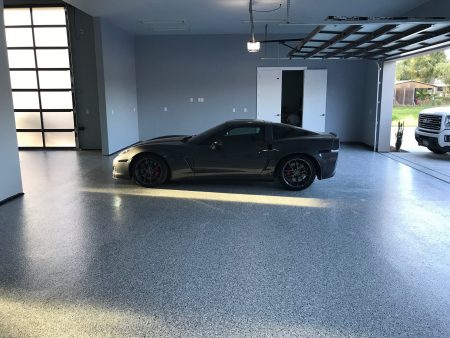 California Custom Coatings provides the finest quality epoxy foundation flooring systems in Vacaville. From many years of real experience, we selected the finest suppliers and coatings available. While other companies may provide you less expensive products, California Custom Coatings knows that quality determines the durability and presentation of the finished product.
Installing Epoxy Floors
California Custom Coatings uses a professional grade diamond grinder to prep your concrete. This scours the concrete and conditions it to meld correctly with the epoxy, forging a longer lasting bond. To stop the spread of dust, we use a tried and tested vacuum with powerful HEPA filtration to effectively grab any concrete particles and keep your room pristine.
Next California Custom Coatings applies a wicking epoxy that works its way into the holes and hairline fissures in your concrete to effectively attach itself. After it dries, the epoxy is mated to your concrete for life! No peeling, no bubbling, guaranteed!
After the epoxy application is finished, then comes the color coat. This is when your previous choices in design such as color and textures are layered. At the end, a clear topcoat covers it all to seal it and add protection from fading and scratching.
For Commercial, Industrial and Residential Customers
By altering the thickness of the epoxy, the chemical components and the texture, California Custom Coatings installs epoxy floors suitable for commercial, industrial and residential uses. A simple phone call or online request guarantees a complimentary consultation to decide about your needs. We serve residences and businesses in Vacaville, as well as throughout Northern California and beyond.