Commercial Epoxy Coatings for Vacaville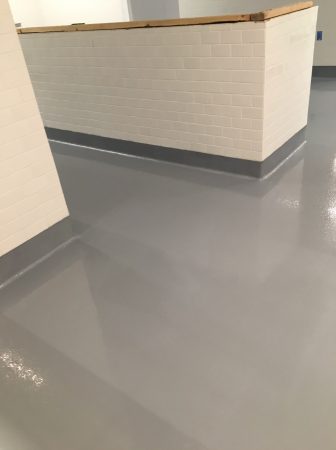 There are many pros to using epoxy coated concrete with commercial properties. After multiple years of experience applying concrete coatings, California Custom Coatings boosts the pros of using this singular material for our clients. Satisfied clients in Vacaville typically request epoxy flooring due to these advantageous features:
Epoxy coatings are very tough and UV light resistant, and thus applicable for indoors and outdoors applications.
Epoxy flooring is inexpensive, especially for large commercial rooms and definitely if you calculate ease of maintenance.
Coated concrete becomes water resisting, chemical-resistant and stain-resistant.
Textured coatings are provided where liquids or slopes are present.
Coved flooring can be installed for sanitation and wall protection.
Colors and patterns are distributed in a vast number of choices, suitable with any needed color scheme or design plan.
Turnaround time for epoxy coatings is quick, minimizing downtime for your company during renovations and allowing for shorter construction schedules with new properties.
Where Should Epoxy Flooring Be Used?
California Custom Coatings works on all kinds of floors, from new concrete to cracked, old or stained concrete. The finished result is always a smooth, personalized business platform that fits your requirements and desired budget. Review just some of the usual applications of commercial epoxy coatings:
Repair shops use epoxy coatings to prevent oil buildup.
Hospital facilities benefit from epoxy flooring for simplified maintenance and cleaning.
Health spas use epoxy flooring for swimming areas, locker rooms, and bathrooms.
Restaurants use coated concrete to limit hazards in kitchen and storage areas with non-slip texturing.
Technical companies appreciate coated concrete since it repels dust and promotes a clean working environment.
Epoxy flooring offers many different design options for retail and is an excellent choice for storage areas.
All epoxy flooring can be made with specific colors for certain areas, or with striping to show paths to specific destinations. For additional information on how California Custom Coatings can protect your concrete flooring while making them a vital part of your interior design, contact us today for a quote and consultation.