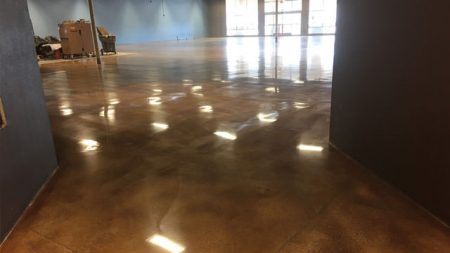 When you want your floor to be sparkling, look no further than the concrete polishing methods from California Custom Coatings in Vacaville. We polish concrete using the latest in concrete technology to stain, polish and then protect your newly colored concrete floor.
The Concrete Polishing Process
Here are the typical steps employed when polishing concrete:
Grinding – A strong grind of the present concrete prevents abnormalities and ensures the floor sealers bond permanently. We use premium industrial vacuum equipment to grab the dust produced during the grind.
Leveling – Areas with faults or cracks are refloated to the same level as the rest of the floor. This way the polish is 100% solid and even.
Staining – The concrete floor is infused, not just coated, with a color stain of your option. Any needed patterns are also added at this time. Stains can be heavy, covering the concrete grain, or translucent, allowing patterns in the concrete to show through like polished wood.
Transparent protective layer – Floor sealers applied above the polished floor fill the pores and highlight the fabulous gloss. These clear sealers bond to the smoothed surface with immense strength, creating a floor that is very low maintenance. For areas where heavy traffic is common, we lay down a thicker coat of protective sealers to compensate.
Concrete polishing therefore offers the finest in decorative durability, for both home and businesses, while simultaneously promoting chemical and scratch resistance. This technique is easily the best for enterprises wanting a beautiful, enduring, and low-maintenance floor surface in their industrial or commercial facility, or for homeowners wanting a special floor that is easily maintained.
If you would like to discuss the selections for adding an enduring, reflective coating to your concrete floor, please call California Custom Coatings in Vacaville, or use our online form to request a free inspection and concrete assessment.