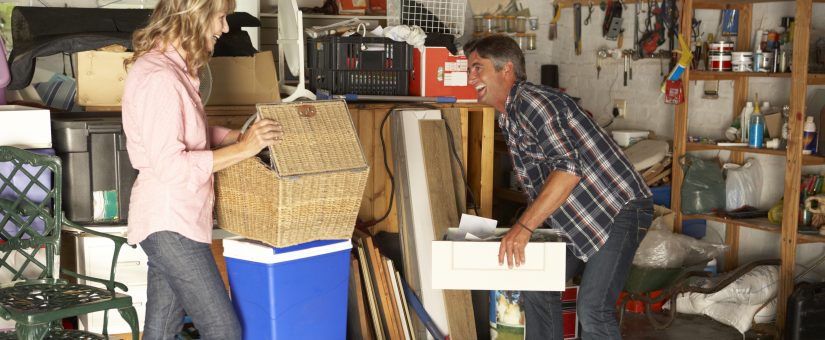 Are you enjoying the Netflix series Tidying Up with Marie Kondo? If you have pulled all your clothes from the closet, dishes from the cabinets and books from the shelves and only kept the ones that "spark joy," your house is now feeling much lighter. And if you completed the process, your garage is already free of junk, totally organized by categories, and has a place to easily park your car. Imagine that!
Now that there is so much space in your garage, it is time to look down at the floor — clear and free of unwanted and unneeded clutter. But is that garage floor surface making you happy? Do the cracks, stains and uneven surfaces do justice to all the hard work that went into getting your garage in awesome shape?
A few years ago, one couple in California tackled their extremely cluttered garage space the Marie Kondo way, category by category. They organized, purged, tossed, donated and sold a mountain of items. They even ripped old and ugly storage units off the walls to create room for more parking. After clearing so much stuff, they opted to resurface the floor of their garage with an epoxy coating. It turned out beautifully, and sparked so much joy that the garage became one of the family's favorite places to hang out, with a special "dancing area" designated by their young daughter. The lovely garage surface became one of the home's selling points when it unexpectedly went on the market a few months later, delighting buyers touring the home.
Viewing the garage as an extension of your house, not just a place to pile up unwanted items, gives your residence an entirely new room for work, working out, crafts, parties and living. The floor itself plays a huge role in making this space an enjoyable area. Just as cracks, stains, and a dingy appearance take away the desire to use a room, beautiful flooring enlivens it! Let's look at a few residential garage floor treatments offered by California Custom Coatings.
Epoxy Flooring
An epoxy floor treatment in your garage is not a mere coat of paint. Epoxy is a thermosetting resin that provides an excellent surface for your garage floor. Epoxy is oil resistant, making spills and leaks easy to clean up. The wide variety of color choices available is appealing to homeowners.
Stain and Seal
Garage spaces, even in many high-end homes, are not typically given much aesthetic appeal. Pour the slab, put in the electrical and plumbing, throw in some storage and call it done! That's the usual approach.
But if you spend any time in your garage, or want to, it doesn't have to be drab and dull. Staining the concrete surface gives your garage floor a finished and pleasing appearance, and sealing protects it from the leaks and spills that come from parked cars, motorcycles, stored sports equipment, and all the garden and cleaning products kept there.
Concrete Polishing
If your newly organized garage sparks joy with you, it's time to give the floor some sparkle and shine. The concrete polishing process applies an aggressive grind to your garage floor's top layer, refloats any areas with cracks or deterioration, and ends with an infusion of your chosen color. A sealer as the final step creates a mirror finish that is long-lasting and beautiful.
Your garage does not need to be a place where unwanted items get lost and forgotten. It's a big space, and with a bit of work and a floor treatment from California Custom Coatings of Sacramento, the garage may become one of the favorite rooms of your home. Please call us for a quote; we look forward to giving you a garage space you will love. And be sure to send us an invite to your "Garage Warming Party."