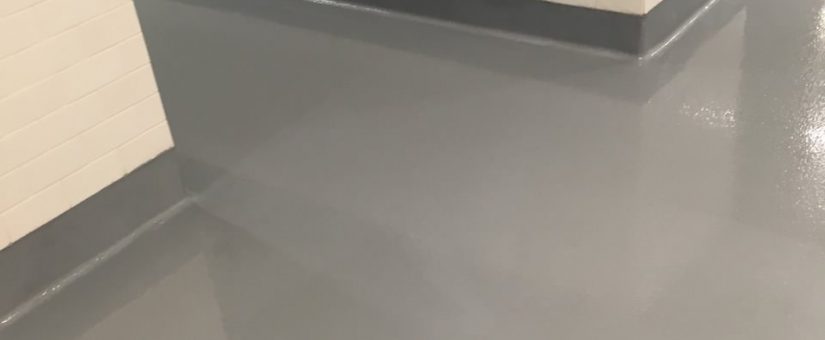 When an epoxy coating is applied to both the floor and the walls of a room, the epoxy along the wall is called the cove. Coves come in three major types and various widths, based on the designer's specifications or an owner's preferences. Here we explain the options for coves that we offer our Sacramento and Northern California customers.
Why Ask for a Cove?
When cleanliness or wall protection is a major factor, a cove goes a long way towards providing the same protection for the base of the wall that epoxy gives to the floor. High traffic areas where wall scrapes are common do terrible damage to paint, wallpaper and baseboards. The toughness of epoxy means its not easily ruined, while protecting the wall at the same time. If liquids are commonly used to clean the floor, a cove also protects the wall from seepage and any cleaning substances that may damage the concrete.
The Three Major Types of Coves
Starting from the simplest to the more complex, the most basic type of cove is one that is only rolled onto the base of the wall. This is done when the owner simply has a design preference and does not actually require full-strength epoxy protection. The process is similar to simply painting on the cove.
The standard cove is applied to the base of the wall with a trowel, not with a roller. This makes the application similar to the process used for creating a plaster finish. The end result is a thicker coat of epoxy that serves as a firm wall protectant. At the base, a slight bevel between the wall and the floor helps push any fluids onto the horizontal surface where they are readily mopped up.
A cant cove takes the concern for standing fluids to the extreme. Instead of a minor bevel, the cant is a 45-degree slope between the floor and the wall. This limits the amount of liquid sloshing onto the wall and guarantees that any water reaching the cove flows back to the floor. Areas seeing a lot of fluid exposure benefit from a cant cove.
Each of these coves can be constructed at whatever height desired. Standard widths range from two to six inches, but higher coves are certainly possible. To discuss your need for a cove, contact California Custom Coatings.