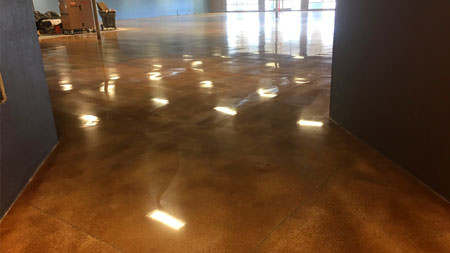 Many numbers are tossed about around the Internet about how much brighter your room can be with a polished concrete floor. Some say you get 100% more brightness, others say 300% more illumination in the room, all from light reflected off the polished concrete floor. The reality is that no matter what your applied concrete surface material – stain with sealer, concrete polish or even a coated epoxy floor – your room will be brighter. How much brighter is totally up to the customer.
Making Rooms Brighter with Concrete Polishing
If you really want to lighten up a room without adding more light fixtures, concrete polishing is the best way to go. California Custom Coatings can adjust the level of reflectivity with any polished floor to the client's taste, simply by adapting our grinding process. You can pick the level of brightness and we can make sure to give you that result.
They way we do this is by determining in advance how many steps to use in our grinding process. An untreated concrete floor is flat, with no reflectivity. When we first grind the floor, we generally create a satin finish, which has a reflectivity similar to satin paint. Additional passes with a finer grinding pad get us to a semi-gloss finish, and more reflectivity. Finally, if we use very fine grit for our final grinding steps, you reach a level of shine that provides a true reflection, the high gloss or mirror finish.
All of this shine is advantageous if you want to lighten up an otherwise dark room. Being able to adjust the shine, or gloss, puts you in control of just how vibrant a floor will seem. Whatever the demands of your interior design, California Custom Coatings has the experience, equipment, materials and procedures to make your floors brighter and your rooms more inviting through the benefits of concrete polishing. Contact us today for a complimentary quote!