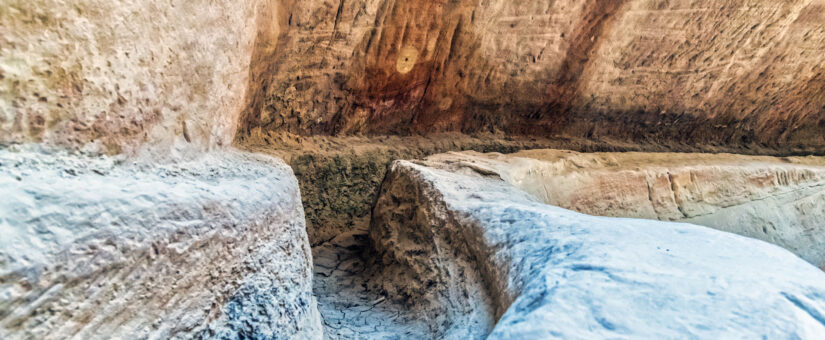 The Hidden Water Cisterns of the Nabataeans
A number of articles on our website have discussed the importance of quality concrete in the ancient world, especially for the Roman Empire. Even before the Romans' great projects, however, the desert-dwelling Nabataeans were making large, hidden cisterns in dry, inhospitable places. How did they make concrete quite literally in the middle of nowhere?
First of all, even in a desert you occasionally have rainfall. When the rain comes, it can often be in massive amounts that lead to flash floods. If you have prepared for this eventuality, then you can capture that water and save it for later, especially underground where cooler temperatures protect the liquid from evaporation by the desert's heat. Most desert-dwelling cultures had cisterns of some kind, but the Middle Eastern Nabataeans turned cisterns into large architectural marvels capable of holding thousands of gallons over extended periods of time. (Think of the ancient city of Petra, used as a backdrop for the Indiana Jones movies.)
Besides carving out cisterns from stone, the Nabataeans made them in the desert by creating waterproof concrete. Civilizations long ago discovered plaster, a slurry mixture of lime and sand that grows hard with exposure to the air and somewhat protects clay structures from weathering. Making the mixture waterproof in ancient times required adding pozzolan to give the material greater strength, while also reducing its porosity. For the Romans, pozzolan came from volcanic ash. For the Nabataeans, it came from desert deposits of silica, mixed with calcium, and transformed into a white powder by natural seepage of water through sand.
By 700 B.C.E., the Nabataeans had figured out the art of producing high-quality concrete. They used it to make cisterns where water had never been kept before. These water supplies were hidden underground and the structures were made to look as natural as possible. By this means they were able to keep the waterworks relatively secret. Their trade routes would follow the paths between these cisterns and the natural oases in the deserts. This knowledge gave them an edge over other merchant societies, "cementing" their place in history. To this day, some of their cisterns fill with water during the Middle Eastern rainy season, providing an oasis where there naturally is none.
It was not uncommon for the Nabataeans to etch designs into their concrete structures. California Custom Coatings here in Sacramento can help you beautify, and waterproof, your modern concrete using the latest in epoxy technology. Ask us how you can design concrete foundations, pathways, patios, decks, and more that may not necessarily last centuries, but can certainly last a lifetime! Contact us by phone or online for a consultation.