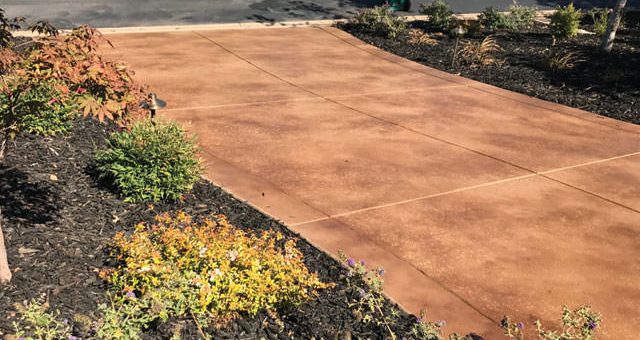 In a previous article we compared epoxy concrete coatings to concrete color stains and noted the differences. One of the primary reasons our clients cite for requesting epoxy coatings for their concrete floors, drives, and walkways is that epoxy is known for being durable. Are concrete color stains also durable?
Deeply Penetrating Color
Concrete color stains work by penetrating into the porous top layer of the concrete and actually dyeing the concrete with the color stain. The depth to which the stain layer moves into the concrete is actually significant, which makes the stain very durable. Our stains are made by Color Floor and are guaranteed to be UV resistant, so that the color stays the same despite exposure to the sun.
One of the benefits of the penetrating nature of concrete color dyes is that since the color is deep, and not just on the surface (like an epoxy coating), if you happen to chip the concrete, there's no telltale grey mark left over. It's difficult to chip epoxy coatings, but if you do, the spot can be rather obvious and some customers seek a touch up. With color stains, there will be an indentation where the chip occurred, but the color will look the same, making it much more difficult to notice.
Coated with Resistant Topcoats
We also coat every color stain job with a durable topcoat that provides a beautiful finish to highlight your new concrete color. This topcoat is more than just a pretty finish. Like the topcoats on our epoxy coatings, it protects what's underneath. Topcoats are available with extra UV protection, slip-resistance, or extra durability.
For more information about concrete color stains, contact California Custom Coatings with service in Sacramento, Northern California, and all over California when the size of the job warrants it.