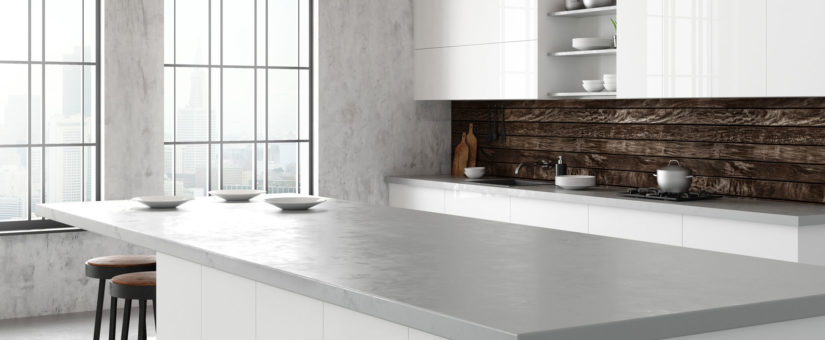 The concrete countertop is quite the do-it-yourself rage right now, but here at California Custom Coatings in Sacramento, we feel beholden to warn you of one thing about concrete, since we know it so well. Concrete is porous and therefore it stains. Since countertops tend to see a lot of water and plenty of food spills, without an effective treatment before they see major use in your kitchen, bar, dining area or bathroom, concrete countertops are bound to become a memory of everything that has ever been spilled on them.
If you think about most countertops, they are either waterproof to begin with (think glass, Plexiglas or Formica) or they are treated to be stain-resistant (lacquered wood, sealed granite or marble, and glazed tile come to mind). Concrete is really no different than stone countertops. It may be heavy and durable, but the pores have to be sealed to prevent long-term staining.
It's Not Just Stains You Should Worry About
Besides stains, pores hide bacteria, and countertops see a lot of food preparation. Do you really want the juice from that raw chicken hiding inside your concrete for the next big dinner you prepare? Talk about a stomach ache waiting to happen!
Treat Your Concrete with Sealants
If you want concrete countertops, they have the advantage of being formable and strong. After going to all the work to reinforce the countertop support and making the counter, the last thing you want is to wrap it up with a sealer that fails after only a short time or that looks more hideous than the countertops you're replacing. This is where California Custom Coatings comes in.
We provide concrete sealing for jobs both big and small. You can seal your countertops with epoxy for a supremely durable finish, or you can use concrete sealers if you want the natural grain of the concrete to be prominent. Concrete polishing creates shiny effects much like those found with granite or marble countertops. Colored concrete stains let you match the countertop to your paint, cabinets, or other surrounding décor.
When you consult with the professionals, you can end up with whatever look you desire for your concrete countertops. For more information, talk to the concrete coating artists at California Custom Coatings!