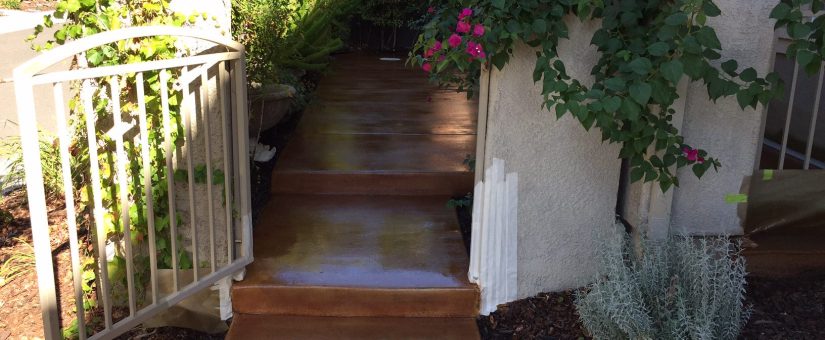 There are a number of techniques for adding color to plain concrete. At California Custom Coatings, we believe in using the best solution possible, and for us that solution is water-based penetrating stains. Penetrating stains are safer and more durable than other materials for concrete coloring, and thus protect our staff and property owners while providing superior performance.
Other Options Are Inferior
Other common coloring options include acid stains, dyes, or surface films. Each of these comes with a caveat that makes it less than the best choice for the consumer. These are some of the most important reasons why we only use water-based penetrating stains for coloring concrete.
Acid stains are potentially hazardous, both during their application and possibly afterwards for sensitive homeowners. The process is harder to control and less likely to produce expected results.
True concrete surface dyes are not UV stable, making them a short-term solution for concrete coloration.
Surface films look great when new but are eventually affected by traffic and weathering. They start to peel and flake — an uglier situation than plain, gray concrete!
The water-based penetrating stains used by California Custom Coatings avoid these problems.
Water-Based Penetrating Stains Are Superior
Here are some of the facts that make penetrating stains better:
Water-based concrete stains are safe to use, creating no harmful off-gasses or dangerous chemical residues.
Penetrating stains are UV stable, providing quality color for a very long time.
Water-based penetrating stain becomes part of the concrete, so it cannot peel or flake away. The new color is permanent!
Penetrating stains let the concrete "show through," emphasizing the contours and textures of the material. They can be left alone, or the concrete can be coated with a durable protectant that adds strength and a shine to the surface.
For more information on why water-based penetrating concrete stains may be the superior solution for your driveway, patio, walkway, garage, or even the interior of your home or workplace, contact California Custom Coatings for service in Sacramento, Northern California and beyond!