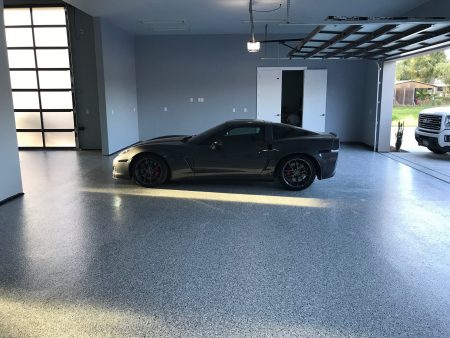 California Custom Coatings provides the best quality epoxy surface flooring systems in Fairfield. From many years of field testing, we selected the best suppliers and coatings distributed. While other installers may provide you less expensive materials, California Custom Coatings knows that quality decides the endurance and look of the end product.
Installing Epoxy Floors
California Custom Coatings begins an installation with diamond grinding that both scours and prepares the concrete for the installation of the epoxy. With regard for the cleanliness and air quality of your room, powerful professional strength vacuums with HEPA filtration grab concrete dust. Quality equipment ensures excellent results.
Next California Custom Coatings applies a wicking epoxy that works its way into the holes and cracks in your concrete to thoroughly attach itself permanently. When it dries, this epoxy is attached to the concrete for life! No peeling, no bubbling, guaranteed!
After the base coat application is complete, then comes the color coat. This is when the previous selections in design are applied. At the end, a clear topcoat covers everything to seal it and give protection from fading and scratching.
For Industrial, Commercial and Residential Customers
By adjusting the depth of the epoxy and the chemical composition and the texture, California Custom Coatings installs epoxy floors designed for industrial, commercial and residential use. A direct phone call or online request ensures a free consultation to decide about your needs. We serve residences and businesses in Fairfield, as well as throughout Northern California and beyond.