Commercial Epoxy Coatings for Fairfield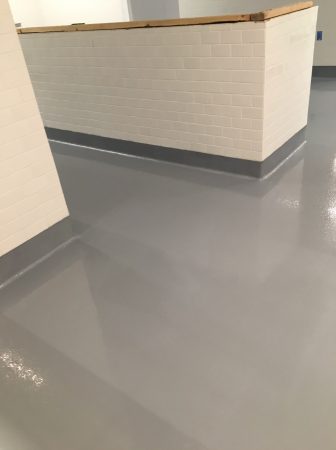 There are many benefits to using epoxy coated concrete for commercial real estate. Due to multiple years of experience applying synthetic coatings, California Custom Coatings amplifies the benefits of using this exceptional material for our clients. Satisfied clients in Fairfield usually decide upon epoxy flooring due to these useful features:
Epoxy coatings are very tough and UV resistant, and thus applicable for outdoors and in.
Coated concrete is stain-resistant, water resistant and potentially chemical-resistant.
Epoxy flooring is inexpensive, especially for big commercial foundations and definitely when you factor in ease of maintenance.
Slip-resistant coatings are available where fluids or inclines are involved.
Colors and patterns are sold in a wide collection, useful with any needed color schematic or interior design layout.
Coved flooring is sold if necessary for maintenance and wall protection.
Turnaround time for epoxy coatings is short, minimizing downtime for your business during remodels and allowing for faster construction schedules with new real estate.
Ideal Commercial Epoxy Applications
California Custom Coatings works with all kinds of concrete, from new concrete to stained, cracked or old concrete. The finished result is always a smooth, customized business platform that fits your desires and funds. Here are just some of the typical applications for commercial epoxy coatings:
Fitness spas use epoxy floors for pool areas, lockers, and bathrooms.
Medical facilities benefit from epoxy floors for simpler cleaning and maintenance.
Restaurants use coated concrete to limit hazards in kitchen and storage areas with non-slip texturing.
Repair shops apply epoxy coatings to prevent grease buildup.
Technical companies appreciate coated concrete since it repels dust and encourages a clean working environment.