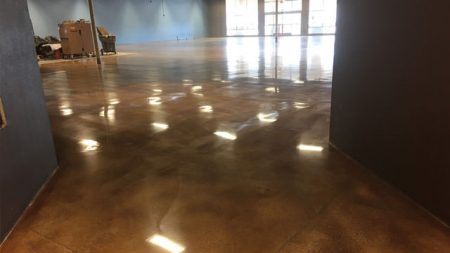 Want your concrete to look shine? Search no further than the concrete polishing technique used by California Custom Coatings in Fairfield. We polish concrete using the latest concrete tech to stain, polish and then protect your brand new colored concrete floor.
The Concrete Polishing Process
Here are the usual steps involved when polishing concrete:
Grinding – A strong grind of the current concrete prevents anomalies and the floor sealers attach permanently. We use high quality industrial vacuum machines to collect the dust produced during the grind.
Leveling – Areas with cracks or deterioration are refloated to the same level as the rest of the concrete. This way the polish is one hundred percent flat and solid.
Staining – Your concrete floor is infused, not just coated, with a color stain of your choice. Any specified patterns are also added at this time. Stains can be heavy, hiding the concrete grain, or translucent, enabling patterns in the concrete to shine through like polished wood.
Transparent protective layer – Floor sealants applied above the polished floor fill the pores and highlight the impressive gloss. These transparent sealers bond to the smoothed concrete with great strength, creating a floor that is very low maintenance. For environments where heavy traffic is commonplace, we use a thicker coat of protective sealers to compensate.
Once concrete polishing is finished, your reflective, colorful floors are effectively defended from stains, wear and scratching. Cleaning is simpler, requiring far less care than wood, linoleum or carpet. California Custom Coatings provides concrete polishing for floors in residences and industrial or business properties of all kinds and sizes.
For more information about your options in concrete polishing, such as adding depth, swirl and metallic sparkle to your concrete, talk with California Custom Coatings in Fairfield today!