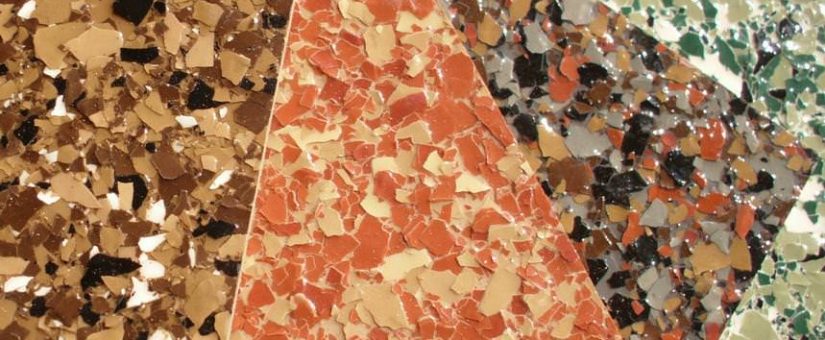 In past articles, California Custom Coatings presented the manufacturers of our primary concrete color stains and our favorite epoxy coatings. Now we want to present Torginol, Inc., of Wisconsin. They make our wide variety of color flakes, color micas and color granules. For a number of reasons, Torginol is our trusted supplier for epoxy coating decorative materials.
It's All About the Testing
Torginol helps companies in the field by constantly testing their products with the many formulations of epoxy base coats and topcoats manufactured today. For Torginol, it's about guaranteeing compatibility and quality control. They recognize that their color flakes and pigments are applied around the country with products from many different suppliers. This dedication to making things "work right the first time" gives California Custom Coatings considerable confidence in their products.
Also, nothing is more frustrating than receiving a color order and it doesn't match the sample. Torginol prevents this situation by regularly testing their batches for accurate matching with color standards. They also look for durability under sunlight exposure, a common cause of fading in other manufacturers' materials.
Customized Colors
It's not often that our customers can't find the blend or color match they're after from the many varieties of flakes, micas and granules we offer from Torginol. When the situation does arise and your specific colors are not ready-made, Torginol offers customized color flakes.
Quality Control
Torginol makes products that are used by the U.S. Military. If Torginol's manufacturing standards are up to the expectations of the armed forces, surely your company or residence will be fully satisfied with the quality you find in Torginol products applied by California Custom Coatings.
For more information about Torginol epoxy flooring products in Sacramento, contact California Custom Coatings online or by calling 916-612-2399.