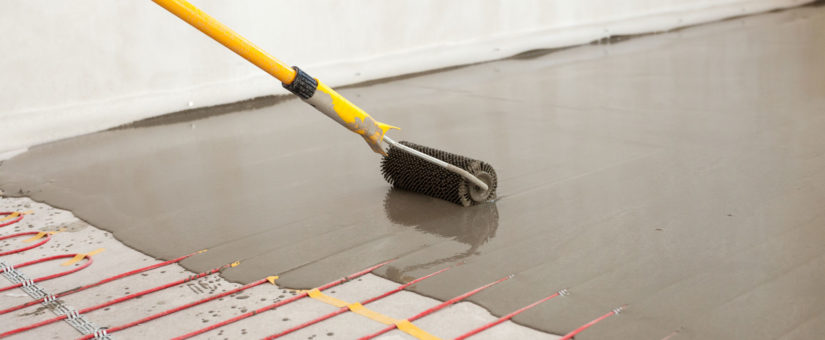 Can you combine radiant floor heating with epoxy coatings? Many clients worry that the two simply don't go together, so they keep their concrete floors plain, instead of taking advantage of the water-resistant surface provided by epoxy flooring. This is a huge benefit where subsurface floor heating is most popular – areas with snow and winter conditions! And although it's seldom seen in the warm Sacramento Valley region, many of our clients in the Lake Tahoe area or in the Sierra Nevada foothills ask California Custom Coatings about the advisability of combining these two beneficial concrete products.
Yes You Can!
The fortunate thing is that the durability of epoxy coatings makes them compatible with radiant floor heating, no matter what method of heat transfer is used. The only period when the epoxy floor must be treated with care is during the curing process, while the coating dries completely. Therefore, every epoxy installation on top of a subfloor heating system requires adherence to the following recommendations for best results:
Turn off the underfloor heating at least four days before applying epoxy coatings.
Leave the radiant floor heater off for at least seven days after the epoxy coatings are fully applied.
After turning the system back on, the temperature should not increase more than 5 degrees Celsius (approximately 9 degrees Fahrenheit) per day.
Depending on how the floor is insulated underneath and the type of floor components, there may be a maximum advised temperature. This is usually near the maximum for most radiant floors anyway (somewhere above 80 degrees Fahrenheit). Speak with your California Custom Coatings team for advice on this matter before and after the installation.
Since the system needs to be off during the application of epoxy coatings, summertime is an ideal period for installing epoxy flooring on top of a radiant subfloor system. (If you also use the system for cooling the house or garage, talk to California Custom Coatings for tips on dealing with a subfloor cooling system while applying epoxy coats.)
For other questions about combining epoxy coatings with radiant floor heating, speak to us online or by calling 916-612-2399.