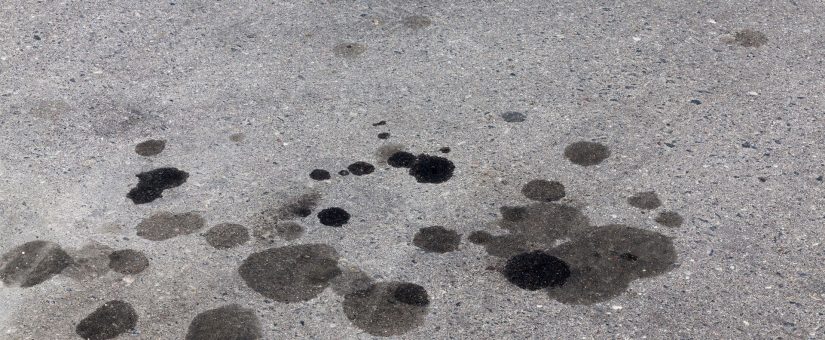 A common use for epoxy flooring is to cover the concrete floor of a garage. Sometimes our clients request this service because their garage has become unsightly due to oil stains. They think we can simply cover them over with epoxy and the problem is solved! It's not that easy, but California Custom Coatings does have solutions. If oil stains are a problem with your Sacramento floors, additional preparation is needed.
Grinding Does Not Solve Oil
Especially with old oil stains that have soaked deep into the porous concrete, our typical preparation method of grinding will not remove the stain. Stains have to either be removed or defeated. Removal of light stains is accomplished with specialized cleansers, but deep stains require a different approach.
Solving the Problem with Oil
The problem with oil is that it prevents epoxy from bonding to the concrete wherever it is present. If the oil cannot be successfully removed from the concrete, it must be neutralized. Since oil on manufacturing and garage spaces is so commonplace, the epoxy industry developed specialized primers that actually bond with the old oil. First we apply the primer to your prepared floor. It attaches to the oil, preventing interaction with the epoxy. The epoxy is then applied over the primer, adhering firmly to the surface.
Without such special preparation, old oil can seep through and damage just about any type of flooring. Cover oil with wood, tile, paint, or vinyl and it will eventually make its presence felt with growing stains. But the pros at California Custom Coatings have the tools, materials and expertise to deal with your oil-stained floors. So if oil is your problem, contact us for help with your improvement project today!