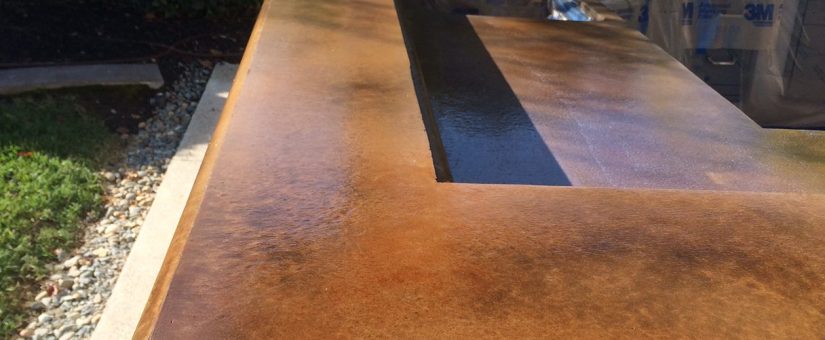 The Benefits of Concrete Color Stains
When a carpenter or designer makes or renovates a piece of wooden furniture they have a choice to make. Do they want to paint the wood or would they rather stain it? A very similar choice comes into play when clients decide whether they want to epoxy coat their concrete or color stain it. Either paint or stain can do a good job of beautifying and protecting wood products. In the same way, epoxy coatings and concrete stains are both good at improving the appearance and durability of concrete.
Enjoying the "Grain" of Your Concrete
Many people choose wood stain for their furniture, floor, or structure because they like to see the grain of the wood. Patterns, knots, and wood rings all play a part in creating a pleasant appearance. The grain also lends to the soothing natural qualities of the material. Wood stain helps to preserve the wood while adding the color tone desired.
Admittedly, concrete does not "grow on trees." Nevertheless, many concrete finishes create surfaces for foundations, decks, floors and walkways that are actually quite interesting in appearance. Choosing a concrete stain embellishes these natural-looking aspects of concrete and creates an appearance that is far less industrial and much more welcoming and beautiful. Concrete polishing also enhances the appearance of this constructed material, improving the presentation of concrete that has blemishes or rough spots.
Choose Your Color of Concrete Stain
Concrete color stains work a lot like wood stains. The dye works its way below the surface of the concrete, becoming a permanent part of the upper surface. There are a variety of available colors, and some are very translucent while others tend towards opaque. California Custom Coatings only uses environmentally friendly concrete stains. You can see the color choices available in our Gallery and on our stain specific page.
If you prefer the look of stained concrete, California Custom Coatings is ready and available in Sacramento and Northern California for your project. Contact us by phone or online for your free consultation.