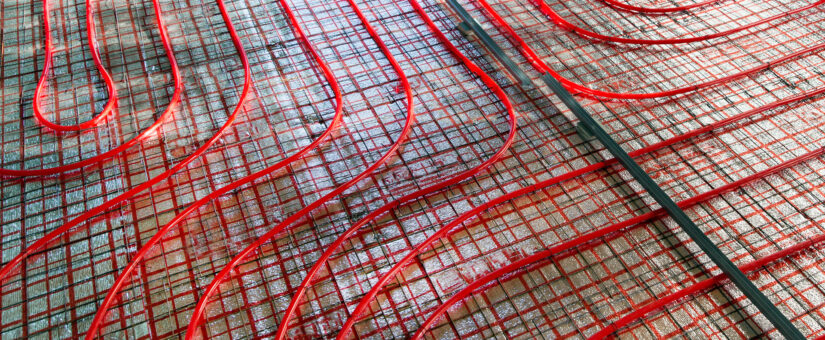 An Ancient Tech for the Modern Era
Here at California Custom Coatings we have written about the durable properties of Roman concrete alongside articles about the benefits of radiant floor heating inside the home. This winter we again want to highlight an interesting fact about radiant floor heating — it was a Roman invention! How can you take advantage of this effective heating technology with modern advancements?
The Right Substrate for Radiant Heating
First off, poured concrete is one of the best substrates for encasing a radiant heating system. A recent article in Popular Mechanics noted that radiant heat systems are "particularly well suited for dense masonry floors, such as poured concrete…". In Roman times, radiant floors were constructed with Roman concrete, brick, or stone. Underneath the floor was an air chamber that led to a fireplace. These hypocaust systems were also designed to heat masonry walls, truly providing whole-house heating! Of course, someone had to maintain the fire that kept the hot air flowing, a problem solved today with technology.
In our modern day, covering up a radiant heating system with concrete has the advantage of providing a low cost compared to the other masonry options. And with superior forms of epoxy coatings, concrete colors and stains, and concrete polishing methods, concrete floors can look just as beautiful as those made with stone and tile. Definitely to be kept in mind is that covering a radiant heating system with carpet, large rugs, wood, or vinyl is not recommended. These surfaces all insulate the floor and limit the desired heat that radiates into the room. So if you are doing a major remodel or new construction and want a conveniently heated floor, coated concrete is an excellent choice for radiant floor heating, as suggested by Popular Mechanics.
Electric or Water-Based Floor Heating
There are two types of radiant floor heating systems available. Electric systems use either a collection of heating cables or heating mats that are embedded in the concrete. Water-based or hydronic systems use tubes run through the concrete carrying hot water from a water heating system. The electrical systems are usually cheaper up front, but more expensive to run in the long term due to electrical costs. Hydronic systems have more components to install, but are cheaper to operate. The larger the space to be heated, the greater the economic advantages of hydronic heating systems. Fortunately, epoxy coatings over concrete work well with either system.
One possible advantage of hydronic floor heating systems is the potential to use them as cooling systems in the summer. Since Northern California has an arid, low humidity environment (our famous "dry heat"), the risk of cooling water creating large amounts of condensation on the pipes is low. The usefulness of such a system in arid environments was studied by the US Department of Energy and they concluded that "some early morning cooling of a home's concrete slab, combined with nighttime ventilation, could shift most of the cooling loads for a house to off-peak hours, reducing the peak demand on electric utilities."
To help you select the best system and options for your needs, California Custom Coatings strongly recommends using a professional to install your radiant heating system.
So if you decide to install radiant floor heating and want to benefit from the efficiencies offered by concrete flooring, talk to California Custom Coatings in advance. We can help you do your floors right by providing a surface that looks good while transmitting all the warmth of radiant heating. Contact us online or by phone for more information today.