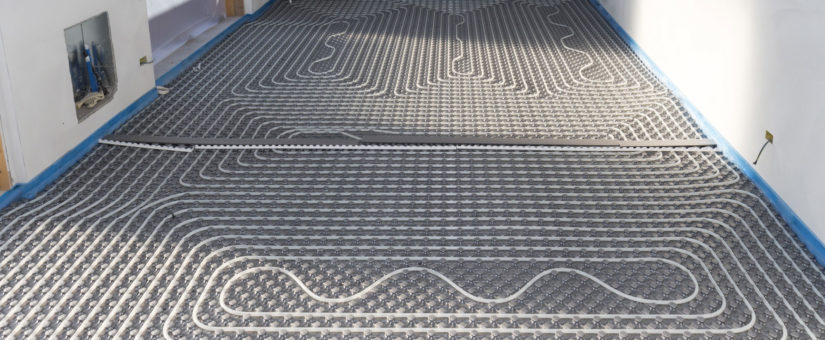 Recently we talked about radiant floor heating and epoxy coatings. This brought up the question of whether California Custom Coatings can also do concrete polishing for radiant floor heating. Although the polishing process requires more aggressive floor grinding to achieve the desired luster, the answer is still positive. Radiant floor heating and concrete polishing and staining are compatible.
About Radiant Floors
Concrete floors are perfect for radiant heating, since the material absorbs heat well and releases it slowly, making for toasty feet and a warm house. For new construction, hydronic floor heating is usually recommended, since this system is the most economical in the long run. Hydronic heating usually employs water and propylene glycol (well known in the automotive industry as antifreeze) to transfer warmth from a heating and pumping mechanism to your living spaces via sub-floor tubing. It is difficult, however, to incorporate hydronic systems into home renovations.
For renovations and projects involving just a few or even a single room or location (like a driveway), electric floor heating systems are often preferred. Electrical floor heating is more readily incorporated into a property as a retrofit and more economical when a large area is not the target.
Property owners do not need to worry about the polishing process removing too much concrete. At most, only ¼ inch is removed from the topmost portion of the slab. For radiant heating, concrete floors are anywhere from 1 inch to 6 inches thick, depending on the type of system. If needed, an advanced discussion between California Custom Coatings and your contractor insures that the concrete is the proper thickness for both the polishing process and for radiant heating.
Concrete Staining and Polishing After Installation
Sufficient time must be allowed for the concrete to sufficiently dry before beginning the grinding process and then sealing the floor with a protective layer. Our goal is to preserve the desired strength of the foundation, prevent water from being stored in the concrete, and to have a proper substrate for adding color and shiny floor protectants. The amount of waiting time varies with the local temperature, humidity and the water content of the concrete. In general, California Custom Coatings waits four weeks after the concrete is finished to start the polishing process.
If you want to arrange for polished concrete on top of your radiant floor heating system, contact the experts at California Custom Coatings! We look forward to helping your floor look and feel great with concrete staining and polishing.