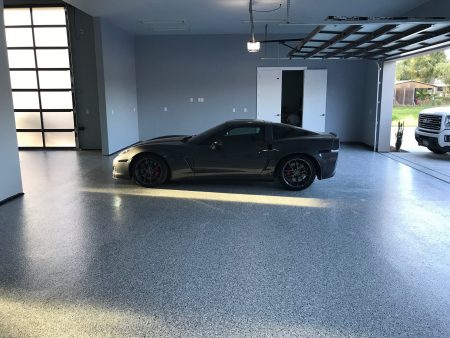 While there are a variety of epoxy coating systems for concrete flooring on the market, not all providers are comparable. From years spent testing basically all the materials and products sold, California Custom Coatings knows exactly which ones to apply in Napa. We apply only the finest quality materials and products, so you can be assured that the floor will endure hard use while looking beautiful!
Epoxy Flooring Installation
California Custom Coatings uses an industrial grade diamond grinder to prepare your concrete. This cleans the concrete and conditions it to connect properly with the epoxy, forging a tougher bond. To halt the spread of concrete dust, we use a professional grade vacuum with strong HEPA filtration to thoroughly collect any concrete particles and keep the property spotless.
When the preparation is done, a wicking epoxy is laid onto the concrete. This resilient product flows into all the minor depressions and irregularities in the concrete to cover it completely. These imperfections strengthen the adhesion to the concrete. Now the epoxy floor will preserve and protect your concrete for its lifetime.
After the base coat process is finished, then comes the color coat. At this time we apply the color and texture selections you carefully selected in advance. Lastly, a clear topcoat covers it all to seal it and lend protection from fading and scratching.
For Commercial, Residential and Industrial Clients
By altering the thickness of the epoxy, the chemical ingredients and the texture, California Custom Coatings installs epoxy floors suitable for commercial, residential and industrial applications. A quick phone call or online request insures a complimentary consultation to decide on your needs. We serve residences and businesses in Napa, as well as throughout Northern California and beyond.