Commercial Epoxy Coatings for Napa
California Custom Coatings provides epoxy flooring for many different types of inventory buildings, commercial properties, and manufacturing sites. Every commercial project has its own demands, based on the kind of business and the client's wants. With considerable experience installing epoxy coatings for Napa businesses, California Custom Coatings is equipped to match the right materials and products and methods to your specific circumstances.
Where Should Epoxy Flooring Be Used?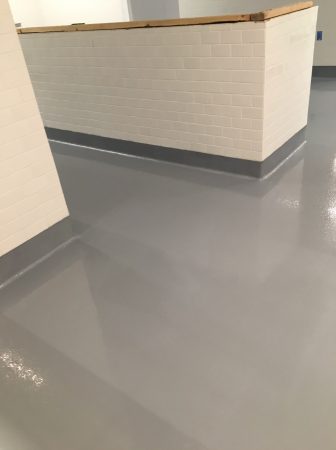 California Custom Coatings works with all types of floors, from brand new concrete to stained, old or cracked concrete. The end result is always a smooth, custom work platform that fits your wants and budget. Consider here just some of the typical applications of commercial epoxy flooring:
Fitness clubs use epoxy flooring for swimming pool areas, locker rooms, and bathrooms.
Medical facilities benefit from epoxy flooring for easier cleaning and maintenance.
Restaurants use coated concrete to minimize hazards in kitchen and storage areas with non-slip texturing.
Repair shops lay down epoxy coatings to prevent oil buildup.
Electronic companies appreciate coated concrete since it repels dust and promotes a clean working environment.
Epoxy flooring offers many different interior design options for retail and is an excellent pick for inventory areas.
Let California Custom Coatings add its exceptional experience with commercial concrete flooring to your company. Quote requests are handled quickly and at your convenience. We encourage you to read our website to see how epoxy flooring can help your workplace stand out from the competition. Call California Custom Coatings at 916-612-2399 or contact us online.