Amazing Colored Concrete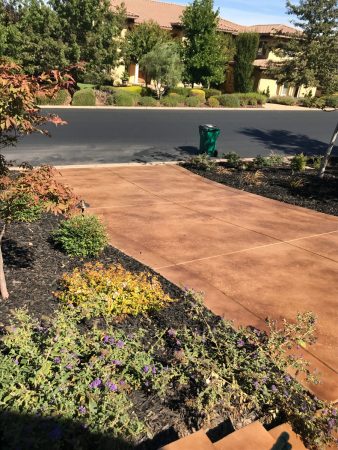 If you desire to boost the appearance of new concrete or renew the surface of old concrete, California Custom Coatings has a system for our Davis customers. We lay down a variety of stains and techniques. We match durability with moisture proofing, UV resistance with chemical protection. The finished product is amazing concrete.
California Custom Coatings employs high quality topcoat materials, therefore our concrete staining technique is suitable outdoors and in. It is designed to last, even when exposed to direct sunlight and bad weather. Our topcoats are used in extreme environments with superb results. They are available in a glossy or matte finish.
Safe for the Environment
California Custom Coatings stains are acid-free, making them safer for you, our employees, animals, the concrete and the environment. Our methods also work on stone, brick or plaster, providing you the option of matching those surfaces with the concrete. Many clients request color staining on patios, courts and pool decks.
Ask California Custom Coatings to make your property in Davis stand out! We provide no-cost quotations and discuss your questions over the phone. Please contact us and discover the gorgeous end result of concrete staining and sealing!